We're all aware that YouTube's video consumption grows every year, so it's kind of obvious that YouTube search engine is huge, possibly being outdone only by Google.
There is also a simple fact: YouTube video content will always have lower competition compared to text.
Still, to rank high, SEO matters. Optimizing for YouTube includes many tasks, and doing them right requires some tools.
From writing the perfect description to looking up what your competition did right, there is SEO software for all aspects of YouTube optimization.
In this list, those tools are organized first by functionality: keyword research, channel audit and competition research — and second by the tools' complexity.
YouTube SEO tools to choose the perfect keywords and topic
Tool highlights: YouTube Autocomplete, Google Keyword Planner, Rank Tracker, Keywordtool.io, Kparser, Keywords Everywhere.
The topics for your YouTube videos need to be carefully optimized. What you need to do is communicate to the search engine that out of all the videos targeting a particular keyword you are the best one. This is done by filling out your title, description, and tags.
For beginners
If we're talking about just getting suggestions for this one YouTube video, we don't need to go beyond the free tools.
SEO is not always about advanced, expensive software packs. Here, we'll use what YouTube gives to us by default.
Go right on YouTube and type into the search bar the beginning of the topic you may have vaguely in mind. YouTube will then present you with a list of options, showing what people mostly search for connected to that.
Simply go through a bunch of letters of the alphabet. You'll get plenty of video ideas that you can then further research and find out if this is your topic.
So while this is free, which is always a bonus, and it doesn't require you to go anywhere from YouTube, there are still some drawbacks. Like you can only look up one word at a time, and there's zero info on your results, and so on.
Sure, if all you're after is creating one video a month, that method could suit you fine.
But if you're looking to implement YouTube into your marketing strategy fully, it won't be enough. You'll need a more convenient SEO tool covering YouTube optimization.
For a full-on video campaign
To go a little more in-depth, turn to Google Keyword Planner. There, you'll have an easier time putting in a bunch of possible topics and getting some good results in return.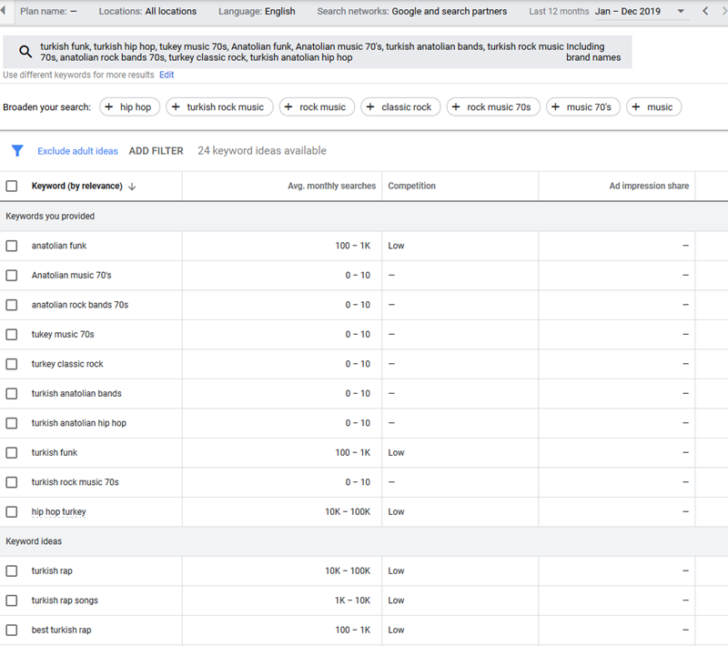 Now, not to be blasphemous. But I was never a fan of Keyword Planner. For example from the screenshot: I searched for "Turkish rap" and the data on searches it gives is "10K to 100K"? There's a 90K difference in there that really matters.
On top of that, you can only search 10 keywords at a time. And if you're serious about YouTube SEO, you'll be looking up dozens of them.
So if what you're looking for is seriously comprehensive data, turn to Rank Tracker (full disclosure: it's my project). Since it's a holistic tool, you'll get a bunch of things there, but for now, we're interested in Autocomplete Tools.
There, choose YouTube Autocomplete, and get extended results.
As this is the full-on YouTube rank checker and keyword research solution, suitable for SEO in general also, you will get a whole bunch of info.
A useful feature, among other things, is that you can sort your keywords by their length — this helps you better target those amazing long-tail keywords, which usually bring your videos a lot of clicks.
That said, this is a desktop-based tool, and as such, it takes a download and an installation to actually start using its full functionality.
If you can't spare the time, Keywordtool.io and Kparser work perfectly for this aspect of YouTube marketing.
The catch with them is just that they are actually freemium-based. You can use them for free, but their functionality then is severely limited.
Both these tools give a good number of keyword suggestions specifically for YouTube. That said, they don't give any additional information about them. They also aren't free, and require you to cough up some dough to access their full functionality.
That said, as paid software, it fits a digital marketer working with a campaign of pretty much any volume.
If you're dead tired of using additional tools in general, look into using a nice free tool, Keywords Everywhere. It functions as a nice and light extension to your browser.
You'll get a slew of SEO information right in your browser, and will be able to do parts of your research "on the fly".
What's important is that you implement your keyword research, not just by adding keywords to your title, but to your description and tags, as well.
Tools for SEO audit of your YouTube channel
Tool highlights: YouTube Analytics, Social Blade, Quintly, TubeBuddy, vidIQ, Tubics.
For any kind of business, an audit is paramount. Running a YouTube channel is no different. You need to keep your hand on the pulse of what does and doesn't work. You'll be able to use those insights further on when building your YouTube strategy.
For beginners
Turn to the very useful YouTube Analytics (YouTube's native tool) first. You'll get a bird's eye view of what's happening with your channel.
And for a lot of us, YouTube Analytics is actually quite enough.
You get the info about your viewership, and what they prefer watching overall. You get a neat graph with the history of your viewership all laid out.
It's not super comprehensive, but it gets the job done if all you want is a little statistics.
A good supplementary tool would be Social Blade. Simply enter your channel's name and get some numbers on your channel.
There's also a very fun Future Predictions feature available, which will show you how much your videos are projected to grow.
And although quintly is not a specifically YouTube-oriented feature, it works pretty nicely. In addition to data on subscribers, engagement, watch time of your videos, and so on, it provides a convenient reporting feature, useful for anybody managing a larger team.
For a full-on video campaign
Of course, if you want to go deeper, you should look into a tool like TubeBuddy. It is one of the best supplementary tools to YouTube Analytics, and, really, it deserves the hype.
There is an abundance of features presented here:

You can analyze your channel's stats, get data on your videos, and perform competition research. You also can edit the thumbnails, annotations, and descriptions of your YouTube content.
From suggesting you tags (which, by the way, doesn't seem to influence your actual SEO rankings much), to translating your video's title and description, TubeBuddy is one of the best suites on the market right now, and it comes at an affordable price.
From $9/mo to $49/mo, you'll get varied functionality. That said, even the free version is good enough to vastly improve your SEO.
Or, maybe you'd like to try something like vidIQ, which is also an all-in-one YouTube SEO solution.
It'll give you tips on best publishing times, suggest your niche's influencers to connect with, and so on. A handy browser extension lets you research competitors in the same way.
It also has the bulk editing of end cards for your videos. A small thing, but it's such a time saver. That's really the advantage that only those of us working with large-volume video marketing campaigns could appreciate.
Tubics is a similar tool. You get, in the same Swiss army-knife package, instruments for keyword research, and channel audit.
And if you need to check your videos' and channel's rankings, you could use a rank tracking tool. The tool can get pricey for a smaller channel, but the trial is free, and if you don't feel like you're getting enough out of it, you can just cancel any time.
Research your YouTube competition
Tool highlights: Rival IQ, NoxInfluencer, Socialinsider, Vaizle.
In the exact same way as with more traditional SEO for Google, YouTube SEO includes competition research.
Keeping an eye on what makes your competition's YouTube content rank is one of the best things you can do for your own SEO.
Here the market leader is definitely a tool called Rival IQ.
With it, you will get a panoramic view of your YouTube competitors and their SEO rankings. Take a close look at what's been working exceptionally well for their YouTube videos. From the kind of tags they use to title formats, try and learn what the best-ranking people in your niche are doing.
I also found NoxInfluencer to be suitable for competition research. For pretty much any niche or location you'll see exactly what your biggest competitors' YouTube profiles are.
There's also YouTube Competitors Analysis Tool by Socialinsider and Vaizle. They provide a breakdown and comparison of your channel and videos to those of your competition, comparing the frequency of posting, videos' stats, and more.
Conclusion
In 2020 SEO, businesses and agencies that pursue a holistic YouTube strategy will always be three steps ahead of everyone else. We need to determine every opportunity to create videos that will engage our potential clients.
Creating YouTube videos as part of your marketing campaign is tapping into a huge well of billions upon billions of searches for video content that was previously unavailable to us.
And that's a well we shouldn't dismiss out of hand.
Aleh is the Founder and CMO at SEO PowerSuite and Awario. He can be found on Twitter at @ab80.
The post How to grow your YouTube rankings with the right SEO tools appeared first on Search Engine Watch.