Video is not only a content type anymore, but it has also become a culture. Before that, theater movies and TV had driven the culture, and the only thing that has changed over the past few years is the platform.
Culture is what drives the marketing around it, and 83% of marketers believe that video is becoming increasingly important; a clear indication of more brands using them as a part of their marketing strategies. It can be clearly seen how important video has become for every platform and marketing channel.
And, if you're not creating videos for marketing campaigns, then you will be left behind this decade.
According to Cisco, 82% of internet traffic will be through videos by 2022. And according to TechCrunch, people watch 1 billion hours of YouTube video per day (That's more than Netflix and Facebook video combined).
In our digital times, everyone is capable of publishing videos and everyone is publishing videos; all you need is a good camera and an internet connection. This culture-driven ability now belongs to anyone who can create a video and is so captivating that the right group of people choose and prefer to watch videos.
A person who will never read a 100-page book will gladly watch a 10-minute IGTV.
Video is more than just cute babies and funny animals. It's so powerful that, even mentioning the word "video" in your email subject line can increase the open rates by 19%.
In this article, I'll unveil all the fundamentals, tactics, and best practices for video marketing.
What is video marketing?
Video marketing is all about creating a video to market and promote your product/service, educate your audience, increase engagement on social media, widen your brand awareness and reach your audience with interactive content. There are some popular platforms like YouTube, Facebook, Instagram, TikTok, and Snapchat that businesses are using for video marketing.
Brands are making videos to help customers make better purchasing decisions by understanding and analyzing their favorite products and features in an engaging way.
Share of businesses using video on their landing pages worldwide from 2016 to 2018
Source
According to HubSpot, 72% of consumers prefer to watch a video about a product than a read product description and more than 50% of consumers want to see videos from brands more than any other type of content.
A quick question.
Why do videos work so well?
Because our brain can't resist the visual outburst, videos are easy to follow-through and we get addicted to them. We remember dialogues from the movies we watched in the past decade but we hardly remember some paragraphs from some book we read a few years back. Movies are just a visual representation of the scriptwriter and storytelling of the director.
Half of the internet users look for a video before visiting a store (Google) and your campaign can't survive without video in your marketing strategy where 87% of businesses now use video to help market their product and services (WyzOwl).
Using video marketing for business isn't something brand new but to obtain the best results, implementing a proper video marketing strategy is a must.
Gone are the days when throwing some random video in your strategy worked, it's now more than 80% of the content on the internet and the field has become highly competitive.
Developing a video marketing strategy that works
According to HubSpot research, customers and consumers prefer low-quality authentic video than high-quality inauthentic video. Simple, mundane videos don't work all the time in the world of marketing. Today, documenting your different work processes like BTS (behind the scenes), vlogs, live videos, and product walkthroughs seem more real and human than videos created filled with artificial effects.
The versatility of the video content you publish also makes it a successful marketing strategy. Be it the branding of your ecommerce business or tapping into new audiences, videos have always got your back.
93% of businesses reported getting a new customer on social media, thanks to video. It's also very important to create a sound strategy when you're planning to implement video in your marketing which should include:
Creating a script based on customer's pain points
Designing a template that reflects your branding
Distribution of video on different platforms
Feelings or emotions you want to evoke
The persona you're targeting with the video
Recording and editing the video
Integrating video into different marketing content
Coming up with new topics and trends
Analyzing the video performance
Improving your strategy based on your data
As we have discussed before, that video is accessible to everyone and any type of business, you only need the right strategy to kick-off. Whether you're executing operations in the service team or the marketing team, the usefulness of video is apparent everywhere.
Let's dig deep into the types of video you can create for the different marketing campaigns:
Types of marketing videos
You will be having different objectives for your marketing campaign and based on that you'll choose the type of video you're going to create. So, here is the list of top marketing video types to choose from:
1. Explainer videos
The primary purpose of explainer videos is to educate your audience whether it's your product/service or some concept in your industry. They generally are short in length and it shouldn't be more difficult than curating decks of slides in the presentation. It's kind of a scripted journey of your customer's problem and how they can resolve it.
2. How-to videos
How-to videos are the most popular type of video which customers love to consume and revolve around the educational concept to teach your audience in a step-by-step manner. These types of videos are compelling because they literally show you how to do something.
3. Customer testimonial videos
Customer testimonial videos are the best way to showcase social proof and brand advocacy for your brand. You can ask your consumers to tell their story on camera, what challenges they faced, and how your brand helped them overcome those obstacles.
4. Live videos
In this type of video, you have the ability to brief your product or service to your audience in a systematic way. It can be an unboxing review, walkthrough or run your physical product through some tests.
72% of people would rather use video to learn about a product or service (WyzOwl).

5. Personalized video messages
Are you out of ideas for your email marketing campaign?
Try creating video messages.
Nothing can be more personalized, charming and captivating than this type of video message. It will not only improve engagement rate but it will also move your prospect down the funnel towards conversion. See how Marketo used personalized video messages to invite their audience to the summit.
6. Live videos
According to Livestream.com, users watch live videos 1.8x times longer than non-live video, representing the present aspect of your brand. It allows your audience to participate, engage, and connect with your brand in the live video.
You can use live video content to stream events, Q&A sessions, presentations, interviews with experts and foster your audience to interact with your brand.
In this Facebook live video, Martha Stewart prepares viewers for holidays with some outdoor decorating ideas and encourages them to buy each product at Home Depot.
7. AR/VR and 360° videos
Everyone in the industry knows that AR/VR is the future and its market has already reached $16.8 billion US. These are future tech that will skyrocket your customer's experience and you should be integrating your products by now.
VR and 360° videos are important videos that let you put your customers into another person's shoes, for example, Oreo ran this fun campaign which lets you experience the Oreo virtual world. On the other hand, AR allows people to check out products while sitting in their homes. Everyone knows IKEA furniture App did this beautifully by showcasing their furniture and homeware in your specific living rooms.
Customer experience journey through video marketing
Everyone is familiar with the customer journey or the funnel as we say in which a customer goes from showing interest in your products or services to buying them. Videos are not any piece of content that you can introduce to your audience at any time or any platform. I say that no content should be introduced to the customer in the funnel at the wrong time.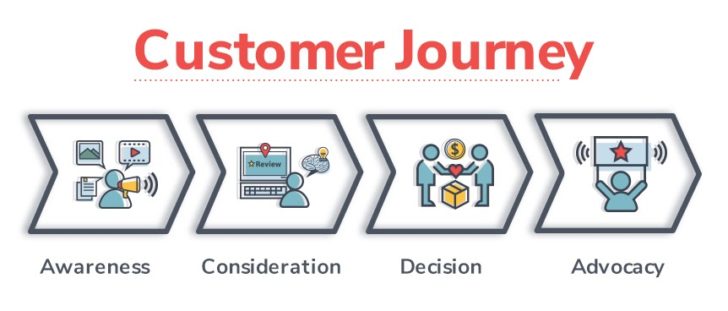 Customers can be offered an additional incentive to push them towards buying a certain product. According to the latest coupon statistics, 86% of millennials say that deals and discounts impact their purchase decisions. This makes coupons a perfect weapon of choice for video marketers.
Here's a brief to every stage of the customer journey and what type of videos you should introduce to your audience at each stage of the funnel:
1. Awareness
This is the initial stage of the customer's journey where you show them who you are and what you represent.
Your prospect has a great product but he is unable to generate revenue.
Prospects try to find the solution on Google by typing their issue.
He ends up watching YouTube videos and learns that his problem is 'A'.
Again, he searches "how to solve problem A" and one of your customer review videos pops up in the suggestion.
He gets intrigued by the comments on your video and checks out your YouTube channel.
Finds out that you have uploaded tons of helpful videos and shares them with the team.
Every time he visits YouTube, your videos are recommended as suggestions.
"84% of marketers credit video with increasing traffic to their website."
Type of videos to use:
Explainer Videos
Commercial
How-To Videos
Fun Videos
2. Consideration
In the consideration stage, prospects know that they have a problem and want to find the solution. They try everything to find the solution, ask a friend, compare alternatives, search on Google and want a cost-effective solution to the problem.
They know the problem and watch one of your videos on YouTube but it is just a teaser. They click on the given link to watch the full video on your website.
They watch one video after the other because of the pop-ups.
In between, an email submission form comes up and they fill it. Congratulations, you've captured a lead. It triggers an email via your automation platform.
Just a few days later, they receive an email with a relevant video.
After checking their watch history, the sales rep sends them a personalized video that is shockingly relevant. They end up booking a meeting.
This kind of customer care strengthens the relationship.
"80% of marketers credit video with increasing the average time on page for their website."
Type of videos to use:
Testimonials and Video Case Studies
Detailed Product Demos
Personalized Video Voicemails
Setup Webinars
3. Decision
In the decision stage, customers are quite close to making a decision to buy your product or service and it's your job to create crystal clear smooth processes for the transaction. They should feel like they have control over the complete process and know every detail.
Team of prospect lists out all the alternatives including your brand, then they schedule a demo but only your brand sends them a video which makes it easier to understand the product.
Prospect sends you an email with a few concerns and you reply to them with a video walkthrough.
During their research, they search for a solution to problem X and they find your YouTube video, which makes you the top vendor.
After a few days, with a deal on the table, they receive a personal video from a senior executive of yours and they buy.
Prospect receives a welcome video from the sales rep and an intro to what's gonna happen next.
You redirect the prospect to the on-boarding video library which makes the whole process even smoother.
Now, when their team faces any problem, support videos with screen recording resolves every issue in minutes.
"83% of marketers say video results in a good ROI."
Type of videos to use:
FAQ Video
Campaign Nurturing Videos
Instructional Video
4. Advocacy
If someone buys your product or service, you'll always get a chance to engage them with your content and updates that help them grow with your product and industry.
The customer finds your product very useful and is very pleased with it.
They create a short testimonial video and your marketing team uploads it on your YouTube channel.
New prospects find that testimonial on Google and visit your YouTube channel. The cycle repeats again.
"86% of viewers say they regularly turn to YouTube to learn something new."
Type of videos to use:
Troubleshooting Videos
Product/Brand Update Videos
Interview Videos
Social Live Videos
I have shown you how we can integrate videos in each stage of the customer journey. It's not mandatory to use all of them but it's recommended to use personalized videos as much as you can. So, design your next customer journey close to perfection with a sound video marketing strategy.
Video analytics
No marketing campaign can be successful without a defined goal and continued experimentation after measuring the data metrics of the campaign. Your goal for running the campaign could be brand awareness, increasing website traffic, or even conversion.
How can you define your goal for the campaign?
By considering your target audience, buyer personas, media they consume, when they consume it, and which stage of the buyer's journey they are in.
Having a better understanding of these metrics will help you measure your campaign success and define your goal of the campaign. There are several marketing tools available that make it easy for you to evaluate different Key Performance Indicators (KPIs).
Here are a few important metrics that you need to keep your eye on:
1. Rate of play
This metric helps you grasp insight into how many people are actually watching your videos. The rate of play is the percentage of people who played your video divided by the number of impressions on the video.
Factors that play an important role in improving this metric include your thumbnail, platform you are publishing the video on, the initial few seconds of the video, and many more. If you're getting tons of impressions but no one is playing your video, then you need to optimize your videos as soon as possible.
2. View count
The total number of view count on your video reflects how many times viewers have watched your video. It's easy to measure but tricky to derive because different platforms measure view count differently.
Facebook takes 3 seconds and YouTube an entire 30 seconds of playtime to measure one view count. This metric is also known as reach which means if your goal is brand awareness then this metric is great to track.
3. Click-through rate (CTR)
This is an important sign that signifies if your video is extremely good or not because its primary goal is to make viewers take a desired action that leads them to an already-optimized landing page with a clear call-to-action (CTA).
CTR is the number of times your call-to-action (CTA) is clicked divided by the number of times it's viewed.
4. Social media sharing
It's way too easy to monitor the social sharing metrics and it's extremely important to increase your organic reach on the internet. The social sharing metric shows you how many shares you're getting on social media from your viewers.
A "share" is the active engagement that a viewer takes to share a video with his friend when they really like the content. When one viewer shares the video, then a similar audience on his network is more likely to share and it creates a chain reaction that helps you reach a wider audience organically.
5. Conversion rate
It's the rate of conversion for your video campaign that tells how many leads, prospects or customers were generated through your videos.
Conversion rate is the number of times visitors completed your desired action divided by the number of clicks on your CTA. However, measuring this metric is kind of difficult but you can surely track it if you work smartly.
6. Completion rate
It's the most liable metric for videos because it shows how many people have watched your video completely.
The completion rate is the number of people who completed your video divided by the number of people who played it.
If no one is watching your videos completely then your content needs to be optimized. It shows the success rate of your video marketing campaign.
7. Bounce rate
You might be thinking about how this metric is important in measuring video success. Sometimes, it happens that adding a video to the web page improves the session duration.
The bounce rate is defined as the rate of your video played, where the viewer actually watches some part of your video.
So, start off by noting down the bounce rate of the page before you add the video and after adding the video to the page, check if there is any improvement in the bounce rate. And how the audience is interacting with the new video content.
Bonus tips for awesome video content
As I mentioned in the beginning, everyone is capable of producing and publishing content these days and everyone is doing it. So, before concluding this blog, I would like to give you readers a few more tips, techniques, and strategies to give you an edge over other creators.
Video equipment checklist
Source
Here's the list of resource requirements you need to fulfill in order to start producing the video content:
Camera: A decent quality DSLR camera would be perfect for the job and will cost you around $500-$600. A high-end camera smartphone like Samsung S10+, Google Pixel 4, or iPhone 11 Pro will also do the trick and will cost you the same.
Tripod: It's very effective for video stabilization and vlogging purposes as it makes your camera portable to carry. So, spend on tripods which are lighter in weight.
External Mic: This will improve the quality of sound in your video and especially when you're shooting for online courses and explainer videos. It will cost you around $100-200.
Lighting: In the starting, you can use a reflector to take advantage of ambient light. If you want to step up to more powerful lighting, you can use something like a softbox.
Editing Software: You just need a few skills like editing out your vocal pauses and inserting some text. This would be enough to make a good quality video, as the final content matters the most anyway. You can use expert tools like Adobe Premiere Pro in Windows and Final Cut X Pro in Mac.
Editing Hardware: As much as you need the editing software for finishing videos, you also need some graphic power to run that software. Low-graphic power systems make it difficult to alter large size files. It should have minimum requirements – 8GB RAM, 2GB VRAM Graphic Card, Intel 6th Gen or AMD FX.
Make a great video
In this section, we will check everything that makes a video great:
Use a script: Writing a script for your video helps you deliver 2-3x content in a short period of time. You don't have to write each and every word; the outline structure will do just fine. For reference read: Write a Video Script
All direction lighting: Using the omnidirectional method gives your object more sharpness and natural feel.
Soundproofing: Shooting in an echoing room will make you sound terrible. Buy soundproofing material or throw some thick yoga mats on the floor.
Color Correction: This can make a huge difference in the output of your raw footage. It is the most undervalued but an important editing part of the video.
Lots of cuts: Cutting is essential to the delivery of your audio and making it clean, and precise. It can help you remove all the noise, avoid filler words, and streamline the content flow.
Animation Effects: If you're making explainer videos or educational content, then graphics give you a bonus in conveying your message. You can use software like Adobe After Effects and also outsource tasks to some experts in the field.
Few more strategies
Here are a few more advanced strategies that will help you give more views on your videos:
First Impression: Capture your audience's attention in the first 5-10 seconds by starting your video with a question, compelling story, or telling them what they will learn in the whole video.
Longer Videos: Try uploading videos longer than 5-10 minutes on very different topics and make them detailed and filled with insights. Long-form content works greatly if created well.
Theme Consistency: You should be consistent with your branding in each and every video. Try to create a theme consisting of your brand color, font, voice, and niche topics which will help you increase brand awareness.
Humor: Using humor in your videos will make your content more watchable. I don't recommend filling it up with jokes unless you're a comedian. Just using one or two light-hearted funny lines in the script would be perfect.
Sequence: Always ask your audience to watch the next related video on the topic. On YouTube, you can show them in suggestions and make a playlist.
Tools for video analytics
We have already learned what metrics we should measure and here's how we can measure them:
Vimeo: Advanced video analytics to help you learn more and decide better. It delivers quality and focuses on building a huge community.
Wistia: It has a great feature to show you the bounce rate when a person jumps off from your video and a complete brand customization capability for embedded players.
Vidyard: It offers a defined reporting dashboard and has integration with major marketing automation software. It also gives real-time video views data.
Google Analytics: Firstly, it is free to use. Perfect if you're just starting off. It gives you the ability to build a customized dashboard and can be specifically used to track conversion rates.
Conclusion
I hope that you've enjoyed this guide for video marketing and its best practices.
Video marketing may look intimidating at first but it's the present and future of content and you can always start slow. You'll be able to produce good quality content with practice and don't forget to align content with your brand.
Creating and publishing videos to grow your brand is way easier than ever and make sure to be a part of this big bubble. Start by turning your epic blogs into different, small pieces of videos in an interesting way and re-purpose all your insightful text content into videos.
Go out other and amaze your audience with your videos and keep improvising all the time.
Light, Camera, Roll, Action!
Which part of this guide intrigued you the most and what points did I miss out on?
Please have your say. I am listening.
Himanshu Rauthan is an entrepreneur, Co-Founder at MakeWebBetter, BotMyWork, and the Director of CEDCOSS Technologies. He can be found on Twitter @himanshurauthan.
The post Video marketing: The ultimate guide (You'll only need this) appeared first on Search Engine Watch.